Budapest Grand Central Train Station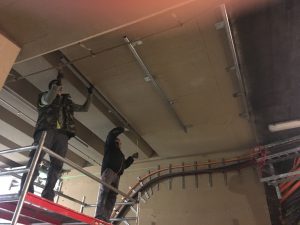 Budapest Keleti (eastern) railway station is the main international and inter-city railway terminal in Budapest, Hungary. The building was constructed in eclectic style between 1881 & 1884, one of Europe's classic railway station.
Acoustics in railway stations has long been a problem. With, not only the regular arrival of trains, there is also high levels of background noise from escalators, ventilation, crowds of people and so on. By their nature train stations are built of hard materials that reflect sound leading to reverberation and echos. This all leads to a noisy environment where it is often impossible to clearly hear the announcements of travel information.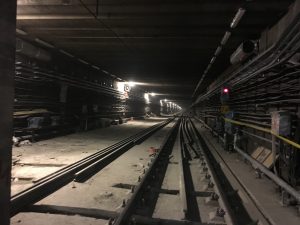 The stations of the new Budapest metro line were designed to be very spacious and the walls to be made of highly sound reflecting materials. The environmental authorities set the requirement that the new stations should be less noisy than the existing ones. Acoustic studies and calculations showed that the requirements could only be met if effective sound absorbing materials were applied, especially in the track zone. (Augusztinovicz, F & Fürjes, Andor & Márki, Ferenc. (2014). Prediction of noise of the stations of the new Budapest metro line M4. 3413-3428.)
We supplied 2500m2 of Quietstone Fr30 for the Budapest Grand Central station. After significant research Quietstone's acoustic panels were chosen to reduce the reverberation in the hall and the station so the noise levels are down and the passengers can be hear the overhead speakers.
Quietstone FR30 has very high sound absorbing qualities and can be used in indoor and exterior applications. In addition it is non combustible and hard wearing making it the ideal choice for managing the acoustics in a railway station. Made from recycled glass is helps a project meet sustainability targets.